You have arrived on the Amalfi Coast. Welcome! You are going to love it!
So what are your options for getting around the Amalfi Coast?
You only have two options in terms of public transport – SITA SUD buses that run between towns and in the summer months, ferries. Mobility Amalfi Coast also run a service between Positano and Praiano.
Individual towns are serviced internally by local buses.
Your other options for getting around are of course by car, motorcycle or scooter.
Note: Buses do not run at night. See the timetables below for service times.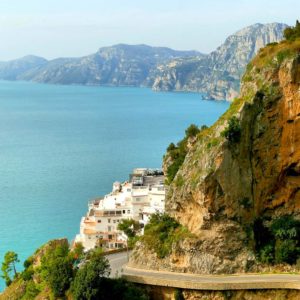 The bus trip along the Coast is amazing - a little scary the first time but something you have to experience. To get the best view of the spectacular scenery, try to sit on the right side of the bus heading towards Amalfi and the left side, coming from Amalfi.
The buses are often crowded, with standing room only but that is just part of the experience. Don't be surprised if during peak times, the bus doesn't stop and just passes you by. It's nothing personal - it just means the bus is at capacity and you will have to wait for the next one.
They notoriously run behind schedule too! This is totally dependant on the traffic conditions at the time so be prepared for a lengthy wait. Take this into consideration if you need to be somewhere at a particular time.
All luggage (including prams and strollers) can be stored in the luggage compartment below.
Knowing when to get off can be tricky. Ask your driver to let you know as you board.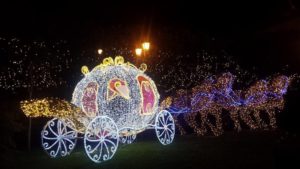 Going to Salerno?
You will need to take the Sita bus to Amalfi, where you will then change buses to continue onto Salerno. The bus stop at Amalfi, is located at the Piazza Flavio Gioia - you won't miss it. It is right near the port and all buses stop there.
Cost: from Amalfi €3,40
Duration: 75 minutes​
Ravello is just beautiful. Whether you are attending a performance at the renowned Music Festival or whiling away a few hours in one of its magnificent gardens, a visit to Ravello is a must. To get there, take the Sita bus from Piazza Flavio Gioia in Amalfi. The stop for Ravello is at the eastern end of the Piazza, a little further along than where the larger buses are all parked. Just ask if you are unsure where to go.
Cost: €1,3
Duration: approx 25 minutes. 
Getting around Ravello itself is easy - it's pretty much pedestrian only. Wander the winding, cobblestone streets, take in the breathtaking views, explore some of the expansive gardens - you'll love it ❤
Out of all the places I have visited, Praiano is where I am the happiest. Where my soul is at peace - a quiet haven away from all the tourist crowds in Positano and Amalfi. 
There are a number of options to get here.
Both the SITAbus from Sorrento and Marrozi buses pass through Praiano, on their way to Amalfi. Bus stop 7 will drop you right in the centre of town.
The local Mobility Amalfi Coast bus also runs from Positano to Praiano. It stops at several locations in Praiano, the final one being #12 (Marina di Praia) before returning to Positano.
Cost: from €1,30 depending on bus service
Duration: approx 25 minutes depending on traffic
Other options: Taxi (expensive)/walk (watch for traffic, especially motor cycles)
Tickets: cannot be purchased on board. They are sold at "tabaccherie" (cigarette shops), newspaper stands, grocers, bars and caffés in all towns along the Amalfi Coast. Tickets can also be bought at the Circumvesuviana station. 
TICKETS: there are several options.
COSTIERASITA 24 hours:

€ 10 
Unlimited rides on SITA SUD across the Coast You must validate your ticket on your first ride. Tickets are per person and cannot be used by other riders. You must fill in your name and date of birth in the spaces indicated on the ticket.
COSTIERASITA 24 hours: € 12
As above but is also valid for local buses running in the Comune di Positano via Mobility Amalfi Coast.
COSTIERA TERRA & MARE expires midnight on day of validation: €13
Allows for one ferry ride by Travelmar (any stops from Positano to Salerno) and unlimited rides on SITA SUD across the Coast.
SINGLE TRIP TICKETS: from €1,30
Mobility Amalfi Coast tickets can be purchased from the same outlets as the SITA SUD tickets but can also be purchased on board.
COST:
pre purchased: €1,30
bought on board: €1,80
weekly: €4
More information on ticketing can be found here.
Note: you will need to change buses at Amalfi to get to Salerno
OK….so the drive along the Amalfi Coast is breathtakingly beautiful…it is also not for the fainthearted. 50.36km long, the SS 163 is carved out of the coastline, resulting in a series of hairpin bends, zig zags, a sheer drop down to the Tyrrhenian Sea on one side and spectacular cliffs on the other.
Immensely popular, especially during the summer months, the extremely narrow road is jam packed with tour buses, cars and motorcycles. I remember my first time travelling on it – I didn't see much of the scenery – I had my eyes closed most of the way – I thought for sure we were going over the edge. Obviously I lived to see another day (those bus drivers are amazing) and now it is one of the great joys of my life – purely as a passenger I might add… I love it!
NOTE: Whilst the drive along the SS 163 or "Amalfi Drive" is one of the most beautiful, scenic drives in the world…it is dangerous! This is especially the case during the peak tourist season. Please proceed with the utmost caution if you decide that it is something you would like to experience.
PARKING:
is extremely limited all over the Amalfi coast. Many of the towns centre's are closed to traffic. Other areas are reserved for residents only. A list of available public parking lots and tariffs can be found
here
.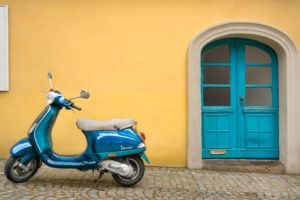 The absolute best way to experience the Amalfi Coast is by motorcycle or scooter. No traffic jams or parking issues (parking is free). Just the complete freedom to explore the region at your leisure….even better if you are on the back of a bike ridden by a sexy Italian!
Bikes and scooters can be rented from many places across the Amalfi Coast. No special license is required…just a standard International license. More details can be found here.
Perhaps though, you might like to take a more relaxed journey to visit some of the beautiful towns along the Amalfi Coast. Then a ferry transfer might be your answer. I recommend you do this anyway – you get a whole different perspective of the beauty of the coastline and the little towns that that are amazingly built on it.
Operating during the tourist season (April through October), several companies run services across the coast (docking at Sorrento, Positano, Amalfi, Salerno) and to Capri. The link below directs you to a fabulous site (www.positano.com) which has a wealth of up to date information re schedules, pricing etc – in fact all things to do with the Amalfi coast – enjoy!